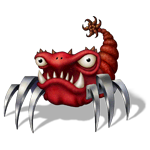 What you need
Map Room 2 and find an enemy's base (real person).
At least 3 outposts (yards) all with level 6 Housing (including 4 level 6 housing in your main yard).
7x540=3780=126 Fang, costing 12.6m Goo.
A level 6 Drull with Bonus 3.
Level 4 Catapult and Flinger.
Venom Fang is highly recommended.
Steps
Fulfill all requirements.
Hatch the Fangs. (Fangs are actually not that slow to hatch considering you just need 3 minutes and 15 seconds to hatch a level 6. Just slightly slower than Banditos. But considering that it has more damage while taking up 30 spaces, it is more efficient to use a Fang-Bomb rather than a Bandito-Bomb.)
Throw in all the Fangs.
Throw in the Bonus Drull.
Use 10M Putty Rage.
Watch the destruction.
OPTIONAL: If you have more outposts (yards) you may want to use the rest of the Housing to make more Fangs.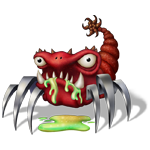 Upsides
Fangs hatch pretty quick at level 6 and if your Fangs have the ability Venom, it is much more effective in tearing down the bases.
They actually have a pretty high attack at level 6 and a mediocre walking speed of 1.6kph.
Downsides
Low health because of the 10M Putty Rage nerf, making Fang-Bombing useless now.
Community content is available under
CC-BY-SA
unless otherwise noted.