Monster Locker
Town Hall Level Required
2
Maximum Building Levels
4
Building Usage
General
Size
5 x 5 in blocks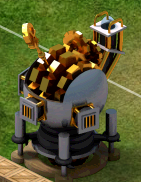 "

Research and unlock new monsters to hatch in the Hatchery.

"
General information
The Monster Lockeris needed to unlock all monsters except Pokeys. As one of the biggest buildings in its level 4 state, some people use it to hide defensive towers or a way/entrance of your yard.
Once you unlocked all your monsters, the Monster Locker is not really needed anymore. You could free up some space by recycling it, but you'll be at a disadvantage if more monsters are released. Example: As of the update May 4, 2012, it is needed to unlock Vorg and Slimeattikus for players that were unable to compete in the Creature Carnage event (people with level 4+ Town Hall). Also, you can use it as an extra building.
Unlocking monsters
Level
Monster
Cost (Putty)
1
Pokey
-
Octo-ooze
8,000
Bolt
16,000
Fink
32,000
2
Eye-ra
64,000
Ichi
128,000
Bandito
256,000
Fang
512,000
Vorg
384,000
3
Brain
1,024,000
Slimeattikus
2,048,000
Crabatron
2,048,000
Project X
4,096,000
Zafreeti
6,192,000
4
Teratorn
4,096,000
Wormzer
4,096,000
D.A.V.E.
8,192,000
Building and Upgrading
Level
Cost
Construction Time
Repair Time
Prerequisites
Twigs
Pebbles
1
1,800
2,300
10m
L2 Town Hall
2
38,800
18,400
5h
L3 Town Hall
3
115,200
147,200
20h
1h
L4 Town Hall
4
460,800
588,800
1d 12h
3h 30m
L5 Town Hall
Recycling
Level
Resources Recycled
Twigs
Pebbles
1
900
1,150
2
15,300
10,350
3
72,900
83,950
4
303,300
378,350
Building Stages
Level
Normal / In Action
Damaged
Destroyed
1
2
3
4
Trivia
The Monster Locker overdrive was removed as you can now directly speed up unlocks from the locker, the overdrive was quite lame as it only lasted 4 hours so you had to buy it over and over again for the later level monsters.
From the original monsters, starting from octo-ooze and ending with D.A.V.E, their costs to unlock doubles when you move on to the next monster.

If the monster locker is destroyed while unlocking a monster,the unlocking process will be stalled until it is fixed.
Tips
Moved to Monster Locker/tips
Community content is available under
CC-BY-SA
unless otherwise noted.