Description
Mushrooms grow around your base daily. These mushrooms may contain 3 shiny , 8 shiny, or no shiny at all.
To pick a mushroom, click on it and select the 'Pick' option. If one of your workers is available, it will go collect the mushroom. Collecting a mushroom requires your worker to run there, which you cannot speed up. Collecting mushrooms contributes to quests in which you must pick up a certain number of ordinary or golden mushrooms (which are normal mushrooms until you "strike gold", at which point they become golden in terms of the quest).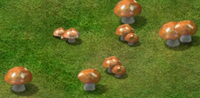 Mushrooms are generally easily spotted when looking at your backyard. However, sometimes they can be hidden behind large buildings. Before the update, you could easily spot the mushrooms in the yard. However, now with the update, it would not help you find the mushrooms. The less crowded your buildings are, the more mushrooms you could get.
If you have 20 mushrooms in your yard, they stop growing. When you first begin the game your yard looks overgrown with mushrooms.
Players in the Philippines are not able to see mushrooms much because they get a shiny discount.
Trivia
When first added into the game, mushrooms were not gatherable.
Unlike other things in the Yard Planner, mushrooms cannot be moved. They also cannot be gathered with the Yard Planner.
Mushrooms do not grow in Outposts.
Mushrooms do not grow in Inferno.
Mushrooms originally had 3, 8, and 10 Shiny inside them, but Kixeye removed the 10 Shiny from the mushrooms.
The action of picking mushrooms cannot be sped up by Shiny.
Your workers can now pick mushrooms to remove the ones you don't want.
Mushrooms have returned for people with the Daily Bonus game!
Added fixes for another mushroom hack.
Gallery
Community content is available under
CC-BY-SA
unless otherwise noted.