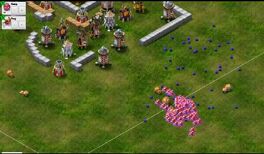 General information
Putty Rage is a rage that is fired by the Catapult. When you fire it at your monsters, they will improve in certain points like speed and defense. A 10 Million Putty Rage is the most dangerous of them all, because your monsters will have double moving speed and they will take only 10% damage for 40 seconds. The best monster to use 10 Million Putty Rage on is the Project X (this strategy is known as PPX, which is outdated), as their favourite target is Defensive Towers and their damage is high (2200 at level 6). Their Health Points doesn't matter much as they will be semi-invincible for 40 seconds. Like all other Catapult options, you can only use Putty Rage once per attack. The larger the putty rage the longer the rage lasts, the more damage boost, the faster speed, and bigger shield
Effects
| Size | Speed | Armour* | Cost (Putty) | Duration |
| --- | --- | --- | --- | --- |
| Small | 120% | 20% | 10,000 | 10 seconds |
| Medium | 140% | 40% | 100,000 | 15 seconds |
| Large | 180% | 70% | 5 Million | 30 seconds |
| Huge | 200% | 90% | 10 Million | 40 seconds |
*Instead of taking damage normally, your monsters will take reduced damage. For example, your monsters will take 80% damage during a small Putty Rage, but will only take 10% damage during a huge Putty Rage.
Trivia
Putty Rage was introduced as of November 8, 2010, along with Wormzer.
In the early days of Backyard Monsters 10 Million Putty Rage would make Project X totally invincible (It was known as PPX), but it was weakened in an update.
Putty Rage nerfed: Still great but not 100% invulnerability.
Gallery
Community content is available under
CC-BY-SA
unless otherwise noted.