NOTE: TO DO THIS BOMB, FIRST, YOU MUST TRANSFER YOUR SABNOX TO YOUR MAIN YARD.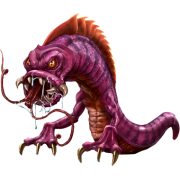 Sabnox Bomb, or Puttied Sabnox(PS) is now considered 'The New PPX' .
Requirements
Monsters required: More than 30 Sabnox, 10 Zagnoids
Champion/s required: Drull Level 6 at Bonus 3

, Fomor Level 6 at Bonus 3

, Korath Level 6 at Bonus 3

Optional Monsters: Krallen

, Zafreeti

Resources Needed: At least 10 Million Putty
Chaos Weapon Best used with this: Marilyn Monstroe

Optional Resources:10M Pebbles and 5M Twigs (For total enjoyment, don't catapult any other resources.)
Steps
To maximize efficiency, make the most of your Outposts and use them for even more Sabnox (or Zafreeti).
Prepare all monsters and resources you need.
Choose a good target, one you want to destroy a lot.
Attack him, and check your monsters/resources if it is enough.
Use the Zagnoid to see whats in the bunkers
Use the Marilyn Monstroe to kill the monsters in the bunkers.
Fling in the Sabnox.
Use the champions immediately after.
If you have Zafreetis use them.
Catapult the 10 million putty.
If you have other resources you want to waste, use them.
Pros and Cons
Pros:
Since Sabnox has high damage and can attack from a distance, this bomb is not meant to be messed with. This monster is a better version of the Project X. This also saves a lot goo.
Cons:
Being very costly, this Bomb needs a lot of Magma. Use this wisely, and it will be worth the cost. Use it badly, its barely even useful.
Community content is available under
CC-BY-SA
unless otherwise noted.