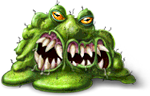 Monsters needed: At least 50 Slimeattikus.
Optional monsters: Fomor level 6, 2-3 max level Zafreeti and/or Vorg.
Reasources needed: Approximately 10 million Goo and 10 million Putty.
Catapult: level 4.
Flinger: level 4.
First Step: Set creating at least 50 Slimeattikus, 2-3 max level Zafreeti and/or Vorg. Wait until you finish hatching those monsters.
Second Step: Choose a yard to attack.
Third Step: Fling all your monsters in 2 Flinger segments and instantly catapult 10m Putty on them.
Fourth Step: Fling your Fomor and watch this combination go dashing through any yard.
NOTE: BECAUSE OF SLIMEATTIKUS'S FISSION AND ACID ABILITY, THIS TECHNIQUE CAN BE USED ON MOST YARDS BUT NOT ON ALL. BE CAREFUL TO ATTACK SOMEBODY HIGHER THAN LEVEL 35.
In this technique, because of 10m Putty Rage and Fomor's buff, the Slimeattikus are not going to die so fast, and even if they reach the verge of dying, the healing monsters will heal them. And even if they die, they will split into tiny Slimeattikuses which will make your attack extremely powerful.
Community content is available under
CC-BY-SA
unless otherwise noted.