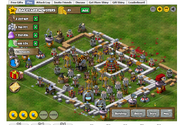 General information
A Yard is a player's or Wild Monster Tribe's base. This is where a player can build his or her own buildings to defend from other player or tribe attacks.
You can take over more "secondary" yards that will continually proide you with resources, called outposts .
There are many ways to design a yard, each effective against certain kinds of attacks and weak against others.
Buildings
A list of all available yard buildings, the maximum number of times they can be built and their minimum town hall level requirement.